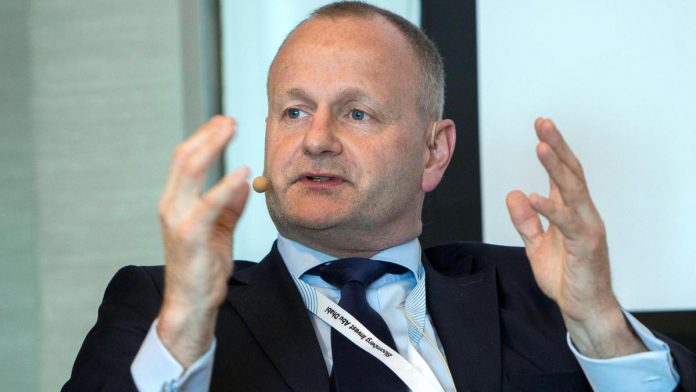 Fra Steen Jakobsen fra Saxo Bank:
What?                                             New low in 30 Year US yield new low & 2yr US yield above 30yr indicating significant risk of global recession
Why it matters?                          The probability of Fed cutting rates even inter-meeting rising significantly asrecession is more and more likely and with it an average sell-off in equity of at least 25%
Policy Response?                       Fed needs to cut 50 bps and soon – maybe even inter-meeting
                                                          Fed is behind and has been since last September – to get ahead Fed needs to cut more than Fed near-term premium indicate: – 60 bps presently – Fed will cut by 100 bps before end 2020
                                                          An active weaker US Dollar is only week away – watch very closely as FX war starts its big engines
What to do?                                 Long GOLD – negative yield feeds both "official buying" and hedge buying: 1600 $ and then 1700 $ target
                                                          Underweight Equity
                                              Hedge long risk with long JPY, Gold, short-term bonds
                                              Keep close eye on credit spreads which should widen(fall in price) :  EUR High Yield& US High Yield
 Comment 
On the day that German GDP went negative, the world biggest exporter – The world biggest importer: The US saw new lows in long-term yield – Random? Hardly
Fed is behind the curve and has been since September – their speed reduced by their fundamental believe in inflation targeting (and that present weakness is transitory) – and now into a macro context they call: Regret Analysis. Sad state of affairs, but the main point being G-7 central bank lost their ability to change direction of growth – end of story.
Despite this they will give it another try – ie. force rates down again. The only way to "move" market now in my opinion being moving between scheduled meetings. Behind by 60 bps of cuts in Fed – they need to produce faster or more. Both is likely by faster would be my choice! Rip of the band aid.
Also note inside the context of falling international cooperation – read: G7 – a full foreign exchange war as an extension to trade is more than 50/50 now. The main impact being a very aggressive rhetoric talking down the US Dollar followed by FED cuts.
This is interesting times