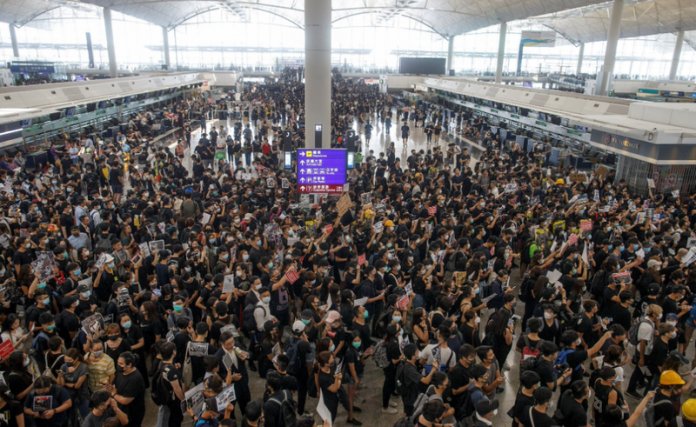 Fra Zerohedge:
The Hong Kong/China feud is going from bad to worse on Monday, when as reported earlier, the Hong Kong airport authority advised all passengers to leave the terminal buildings as soon as possible in an unprecedented disruption after thousands of anti-government protesters occupied the airport terminal building.
However, what confirmed that as Beijing has been warning for the past week, Hong Kong's insubordination will no longer be tolerated by Beijing, was a video – complete with dramatic World War III style music – published by the state-owned tabloid
Global Times
, which showed "
The People's Armed Police have been assembling in Shenzhen, a city bordering Hong Kong, in advance of apparent large-scale exercises."
So will China invade Hong Kong and potentially trigger a global war as the west has no choice but to come to the wayward territory's defense? We will find out, but recall what what Steve "the Big Short" Eisman said last week, who said that his biggest fear right now are the Hong Kong protests, warning that "the people who are protesting are not backing down, the Chinese government doesn't seem to be backing down, so if cooler heads don't prevail it's possible things in Hong Kong could get very ugly" and adding that "That's actually what I'm worried about the most right now, because every weekend we've got this drama where the people of Hong Kong are having protests in the millions and its starting to get very violent."
—————-
Protesters flooded Hong Kong's airport, one of the busiest in the world, on Monday, forcing authorities to cancel more than 100 flights as demonstrators expressed their anger over the violent police response to protests the night before.
Video of the airport terminal showed thick crowds chanting protest slogans.
Breaking: Hong Kong airport says all flights are now cancelled because of protests. #HongKong
Flights have been canceled, and China has reportedly called the protests that have swept Hong Kong terrorism.

But the people will continue to fight for freedom.#FreeHongKong
Amid the unrest, Cathay Pacific, Hong Kong's flagship carrier, has reportedly fired two employees and suspended a pilot for participating in the protests. The airline said over the weekend that it would 'comply with a directive from China's aviation authority'. According to the FT, Cathay's move was "the starkest sign yet of Beijing's growing readiness to make high-profile businesses choose between the protesters and the government. The company's shares were off more than 4% in recent trade.
More broadly speaking, European equities sold off as the developments in Hong Kong created a risk off mood on a morning that was mostly devoid of data.
Per the NYT, the protesters gathered throughout the day, first filling up the arrival halls, before expanding upstairs to the departure halls. Monday's protest is a continuation of a three-day peaceful sit-in at the airport which began on Friday. It bore none of the violence that demonstrations on Sunday night had, where police fired tear gas inside a subway station and charged at protesters on an escalator.
Some incoming flights were being diverted to Taiwan.
Cathay Pacific Airways flight CX527 from Tokyo NRT to Hong Kong diverted to Kaohsiung due to airport closure. https://twitter.com/APInfo_bot/status/1160844331168624641 …

航空情報 AirPlaneInformation

@APInfo_bot

<ダイバート/目的地変更発生>
東京・成田発 香港行き
キャセイパシフィック航空 CX527便
香港国際空港 閉鎖のため、
高雄国際空港に向かいました。
24 people are talking about this
Noel Tse, a 29-year-old nurse, said she participated in the sit-in at the airport because she thought the police had acted to aggressively on Sunday. "As a member of Hong Kong, this incident is no longer a political issue," Tse said. "It is a battle between right and wrong."
But even more ominously, over the border in Shenzen, the Chinese city that lies directly across from Hong Kong, Chinese People's Liberation Army forces were building up ahead of what appears to be a "apparent large-scale exercise," according to the Global Times. "Numerous" armored personnel carriers, trucks and other vehicles of the paramilitary police were seen heading towards Shenzhen over the weekend. That means the long-awaited military intervention from the mainland could be just around the corner – something that the Hong Kong people have condemned.
Yang Guang, spokesman from China's Hong Kong and Macau Affairs Office, said there should be a crackdown on violence in the city, during a briefing.
Though a military conflict in Hong Kong would certainly rattle global markets. Remember what Steve "the Big Short" Eisman said last week. His biggest fear right now are the Hong Kong protests, which he says could endanger any kind of trade deal with China and hurt the global economy. "If things escalate even further in Hong Kong, that would have a real impact back on the global economy.